2016-07-09
Your home and fireworks this July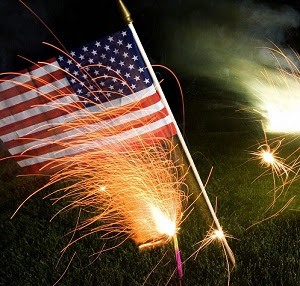 Fireworks are a special July tradition in many if not all neighborhoods in Utah. Though fireworks can be a lot of fun, they can also be dangerous even if they are properly supervised. Because of the danger that can be associated with fireworks, it is important to take the proper steps to make sure that everyone is safe when using any kind of fireworks. Here are some safety tips that will help make this a safe July.
Before buying fireworks, make sure that they are legal in your area.
Bluffdale City
All areas East of Redwood Road and Camp Williams Road or anywhere within 100 feet of a dry field is prohibited. These restrictions will be enforced and anyone found violating them will be cited.
Cottonwood Heights
restricted on or over any public property such as parks and schools.
No fires and fireworks in wildland interface areas such as the foothills east of Wasatch Boulevard and Crestwood Park.
Draper
Fireworks are not allowed east of 1300 East, south of 13800 South, west of the I-15 freeway
Around the Mehraban Wetlands Park from 1000 East at 123000 South traveling north along the city boundary to 700 East and Traveling south along 700 East to the TRAX Railroad line and following the TRAX line south to 12300 South
Sandy
Time frame for discharge:
July 4 - Three days before, day of and three days after, 11 a.m. to 11 p.m. except for day of holiday until midnight (July 1-July 7)
July 24 - Three days before, day of and three days after, 11 a.m. to 11 p.m. except for day of holiday until midnight (July 21-July 27)
Be sure to closely read and follow all safety instructions listed on fireworks packaging.
A responsible adult should closely monitor/supervise the use of fireworks.
Fireworks should be used outdoors and away from buildings/vehicles.
Do not try to relight fireworks that may not have fully ignited.
Keep a bucket of water or a connected water hose nearby at all times.
The 4th and 24th of July should be a day of celebration that will create many fond memories of family and friends. Don't let those memories become tainted by injuries that could and should have been avoided.

Subscribe to RSS Feed
Welcome to our Blog!
2020-10-30
Ways to Make Your Offer Stand Out
2020-07-01
Savvy Home Sellers Are Taking Advantage of The Current Inventory Shortage
2020-06-01
Pandemic Real Estate
2020-03-26
Don't Panic!
2020-02-07
Home Prices Expected to Continue to Rise
2019-10-07
Is your house priced to sell immediately?
2019-05-24
Utah remains No. 1 for home growth
2019-05-21
New Custom Home to be Built
2019-01-25
Why use a Realtor®
2018-10-31
Affordable Housing
2018-07-18
Understanding the Titles for Real Estate Professionals
2017-11-09
Wondering If You Should List Your Home Over The Holidays?
2017-10-04
A tale of Two Markets
2017-08-14
Median home price in Salt Lake County hits historic high.
2017-06-02
What to add some zip to your next BBQ?
2017-05-12
Don't Make These 5 Mistakes When Making An Offer
2017-04-01
Thinking of Buying or Selling a home In Bluffdale
2016-12-27
Thinking of Selling of Going FSBO - 6 Reasons To T
2016-11-22
Thinking of Buying or Selling Over the Holidays?
2016-09-13
Low Inventory Slows Home Sales In July
2016-08-02
West Jordan UT 84084 Condo
2016-07-09
Your home and fireworks this July
2016-05-11
Downpayment Assistance Available in Taylorsville
2016-01-21
Pricing Your Home For Sale
2015-12-04
Thinking about listing your home over the holidays
Click here to see ALL articles.